Friendship Baptist Church
of Forsyth County, Inc.
Established in 1840
Cumming, GA
Friendship Is Reaching Out
Pastor: Rev. Ricky Byrd
Bible LIFE Groups each Sunday at 9:45 a.m. Worship Service each Sunday at 11 a.m. There are classes for all ages.

Friendship is located at 2250 Friendship Circle just west of Sawnee Elementary School and off Canton Highway (GA Hwy 20) about 4 miles west of Cumming, GA.

Glory Bound Bus Ministry goes on Wednesday evenings and Sunday mornings.

Join us in Bible LIFE Groups (Sunday School) and for Worship Services. There are groups for all ages. You will be blessed.

Friendship has a Facebook page to keep everyone updated about events happening at Friendship. You also can see pictures of different events that are happening at Friendship. You will find videos of special singing on most Sundays as well. Even if you are not a Facebook member, you should be able to see this page at Friendship Face Book
Friendship continues to be very busy in 2017 both in the church and in the community spreading the Good News of Jesus Christ. Please read about some of the highlights of what is happening in 2017.
Church services continue to be very inspirational and encouraging for us to find JOY by serving Jesus first, Others second, and Yourselves last. In addition to our Sunday morning services, we enjoyed a wonderful Sunday evening Community Service on January 22. A mass choir of singers from Friendship and neighboring churches warmed our hearts in song and then we were blessed by Liberty and Divine 3 singing to us. We will have other 4th Sunday Services on February 26 and March 26, 2017 beginning at 6 p.m. and on April 23 with a covered dish supper at 6 p.m. and our annual convention singing at 7 p.m.
All Wednesday evening activities at Friendship resumed on January 11, 2017. Forty six High School Youth and their chaperones enjoyed a celebration trip to Orlando, FL in January. The Youth continue to work at the Hightower Association Food/Clothing Bank each second Saturday of a month. The younger youth have visited fire departments to invite our public service workers to a breakfast for them on Sunday, February 12, that was sponsored by the Brotherhood and Middle School Youth. The Middle School Youth also spread Valentine love with a gift to our widows/widowers who were attending service on February 12.
All Wednesday night activities begin with a meal at 5:30 p.m. followed by youth choir practice and adult Bible study taught by our Pastor Ricky Byrd at 6:30. Beginning at 7:15 p.m. the Youth divide up into their age groups for Bible Study and activities. There are Mission Friends for the little ones, GAs and RAs for the elementary age children, middle age, high school age, and college age groups. Meanwhile, there is a Bible Study for adults taught by Christi Bagley and Adult Choir practice led by our Choir Director Michelle Pirkle. In other words, there is something for all ages on Wednesday nights at Friendship
Our Super Seniors meetings have continued to meet in our new Senior Center, beginning at 12 noon. We enjoyed pot luck lunch in January and a special Valentine meal in February. Here are the scheduled times for our next meetings in our Senior Center: March 16, April 11, May 11, August 15, September 14, October 10, November 14, December 14. We are planning to have fun times at Lake Lanier on April 20, June 20, and October 26. The June and July dates will be announced later. All Seniors in our communities and church are invited to attend. See our new link on left for pictures from last sessions.
Upcoming Events at Friendship in early 2017:
An American Red Cross Blood Drive will be held on Saturday, March 4, 2017, from 9 a.m. to 2 p.m. in our Family Life Center. Please contact Janice Tallant at janicetallant@yahoo.com
Friendship will hold a Barbecue/Brunswick Stew Dinner and Talent Show on Saturday Evening, March 4, beginning at 5 p.m. with dinner and 7 p.m. with Talent Show. Please join us for great food,fellowship, and entertainment. Proceeds go toward Church Family Retreat 2017.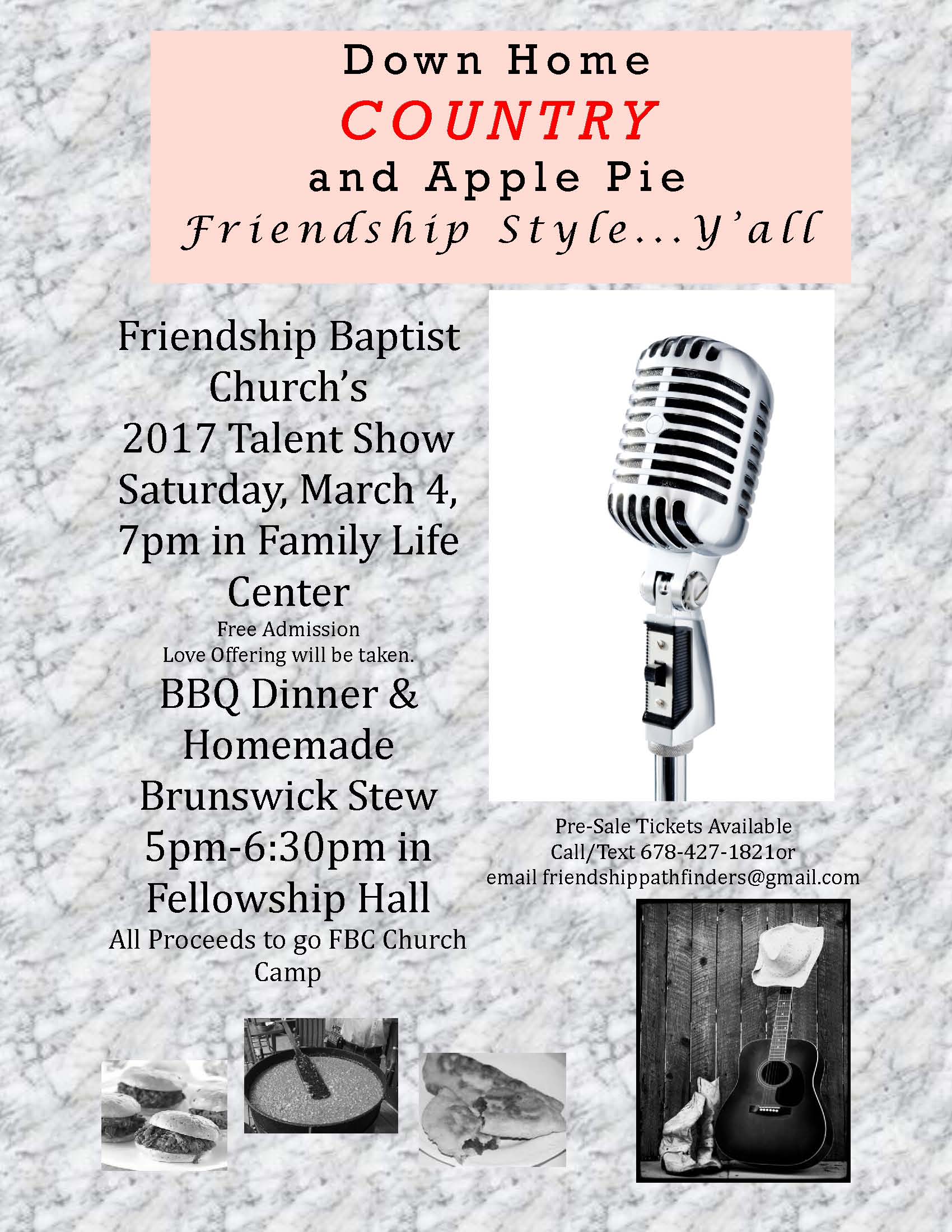 Spring Revival will be held on April 12, 13, 14, 2017 and Sunrise Service and Breakfast, Baptizing, and Easter Services will be held on Sunday, April 16, 2017.
Annual April Singing will be held on Sunday, April 23, with Supper at 6 p.m. and Singing begins at 7 P.M. Convention song book congregational singing and specials.
The Pathfinders Bible LIFE Class has a Relay for Life Team and are raising funds to fight cancer for the American Cancer Society. The Relay for Life event will be held on Friday evening, May 5, 2017. All are welcome to join our team, Friendship Pathfinders.
Friendship is located at 2250 Friendship Circle just west of Sawnee Elementary School and off Canton Highway (GA Hwy 20). Mailing address is: P O Box 3180, Cumming, GA 30028 and phone number is 770-887-8844
Contact Janice Tallant at janicetallant@yahoo.com or Rev. Ricky Byrd at pastor.rbyrd@icloud.com for more information.